Tracks on Tracks – Send Lakefield on a Train to NXNE!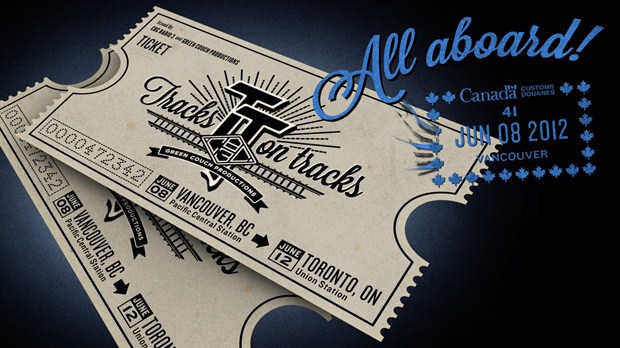 We've been nominated to ride from Vancouver to Toronto, but we need your help!
Vote every Wednesday at noon until May 9th
We're happy to report that we've been nominated to board VIA Rail for a cross-Canada, four-day-and-three-night trip and music showcase as part of CBC Music and Green Couch Productions' "Tracks on Tracks" contest! The train leaves Vancouver on June 8, with stops in Kamloops, Jasper, Edmonton, Saskatoon and Winnipeg, and arrives in Toronto on June 12 for the North by Northeast music festival.
The first step is to vote for us, every Wednesday until May 9th.
Next, enter yourself to win tickets to join us, or buy tickets now at a discounted rate.
As a thank you for voting, until May 9th, we'd like to give all of our supporters a free copy of our debut album, Sounds From The Treeline. Tweet your support, or make a Facebook wall post, and you'll get a download link right away.
Tweet your support …and get a free copy of Sounds From The Treeline