Electronic Press Kit, Booking Info, Tour Dates, and Biography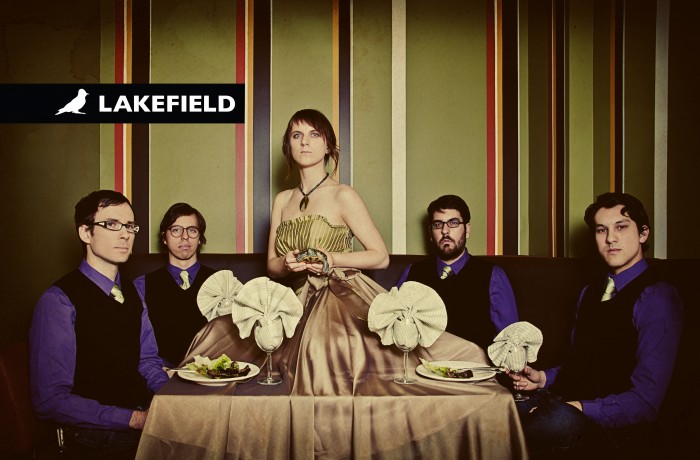 Lakefield is a Canadian indie pop quintet formed and based in Vancouver, British Columbia. They have been recording and playing to audiences since 2008.
Bringing together all that they love about Death Cab for Cutie's songwriting, The Anniversary's relentless hooks, Stars' cinematic epics, and the guy/girl vocal harmonies of Mates of State, Lakefield's first album, Sounds From The Treeline, is a testament to all that they love about music – as much a product of tears and tantrums as it is a sweet love letter to a cold Vancouver night.
Rewind to 2006; Steven Luscher (guitar, vocals) and Kate Rossiter (keys, vocals), having cut their indie-pop teeth together in Ottawa's The Suburban Pop Project, moved to Vancouver to start an urban sub project. Stumbling upon a group of Vancouver's indie-illuminati at a house party to which they weren't even invited, they found Blue Grey Dots' Bryan Chiu (guitar, vocals). Steven and Bryan would play to some of Vancouver's sketchiest audiences before Blue Grey Dots disbanded messily later that year.
Life being meaningless without music, Steven set his mind to building a new band from the ground up. All it took was a drum kit and a deposit on a rehearsal space to attract local friend and promoter Kyle Sulyma (bass). Adding high-school classmate Paul Teehan (drums), and rescuing Bryan from the canteen aisle of an army surplus store, Lakefield was born as a five-piece, with occasional bursts of sound from trombonist and friend, Steve Mynett.
---
Lakefield loves their listeners and fellow artists too; they have released their entire album under an innovative, future-forward, remix-friendly, Creative Commons
Attribution-Noncommercial license
.